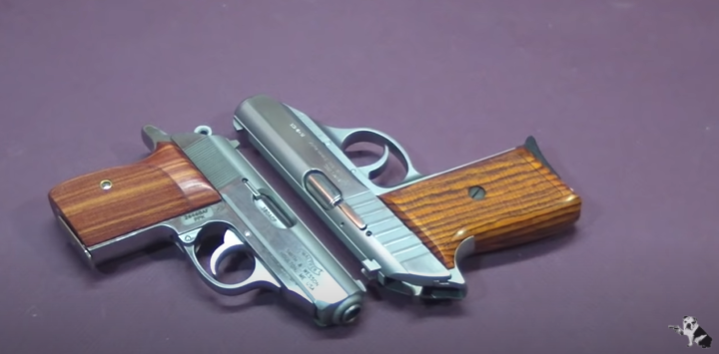 When it comes to choosing a handgun for self-defense, there are countless choices available.
However, when it comes to choosing a handgun that is both reliable and accurate, few handguns can compare to the Sig P232.
The Walther PPK, on the other hand, is another excellent choice for those who are looking for a reliable handgun.
The SIG Sauer P232 is a semi-auto gun. Many say that it has a striking appearance.
It comes in two finishes.
A stainless steel frame or anodized aluminum alloy frame.
It comes in a size that makes it a great choice for carrying.
The Walther PPK is also a semi-auto pistol and a great gun for personal protection.
It is a well-known firearm with lots of appeals. It comes in double or single actions.
Like the Sig P232, its handy size makes it an ideal firearm for concealed carry.
The Walther PPK is a classic and lets us see how the Sig P232 holds up against it.
Physical Appearance and Aesthetics
The PPK is easily one of the most gorgeous pistols ever made and no one will dispute its iconic status. It is a straightforward DA/SA blow-back gun that uses a sliding mounted decocker/safety.
Its compact form allows it to be very convenient for concealed carry. Just ask 007 himself, James Bond. The Ian Fleming spy helped elevate this gun to cult status.
The Sig P232 is also a very attractive gun. In fact, it borrows a lot from the form of the PPK. One might argue though that it looks a bit more sleek and rakish.
The Sig is likewise a DA/SA blow-back style gun, however, its decocker is mounted on the frame. It is also notable that there is no manual safety.
The Sig P232 is just a bit bigger than the PPK, as it is about half an inch longer and taller. Aesthetically it is quite difficult to say which is the more handsome pistol.
Perhaps it will all boil down to personal taste. Those who like a more classic style will perhaps choose the Walther PPK. On the other hand, modernist types might go for the Sig P232.
Gun Features
Both these weapons have similar features. As mentioned, they both have DA/SA with manual decockers. They are also blow-back design guns.
While the Sig P232 does not have a manual safety, PPK owners say that feature is hardly used on their guns.
On the Sig P232, the decocker releases the hammer more smoothly than the Walther. As such one can lower the hammer gently by depressing it, thus permitting it to rise.
Sigs are known for their quality decockers. In contrast, the decocker on the PPK slams the hammer rather fiercely.
These two pistols use wrap-around grips. This design helps a lot with controlling recoil.
The absence of a metal back strap pushing the palm of your hand on both guns is also a welcome feature.
Overall, the PPK is just a beautiful gun and has quality written all over it. The P232 might be lagging behind the PPK in this department, but just a little bit.
Both pistols are quality weapons and are prime examples of first-rate engineering.
Performance
Both of these pistols are great performers. Owners say they hardly malfunction and are extremely precise.
In the firing range, shooters get very similar groups from both guns at distances of 10 yards, 15 yards, and 20 yards.
Both pistols were also very adept at hitting the 6″ steel spinners from the 25-30 yard range. Handling-wise, the two guns felt natural to grip.
Both are comfortable to use, and one does not feel better than the other. The P232 does have a longer grip frame, so shooters with larger hands might like this about it.
On the subject of size, the extended mag of the Walther PPK makes up for this size difference.
Faults
It truly is difficult to find fault in these two handguns, as they are both quality pieces. They are equally good designs made to the highest standards.
If one must nitpick, then perhaps something should be said about the decocker on the PPK lacking finesse, or the magazine release of the Sig P232.
The X Factor of Both Pistols
It is perhaps safe to say that the Walther PPK is on the wish list of every gun enthusiast. It is a model that anyone who carries should consider as their CCW (concealed carry weapon).
It is handy, very concealable, of excellent craftsmanship, has impeccable performance, and very precise. It has safety and a decocker for added protection in case a gun owner is careless.
Then the icing on the cake is its gorgeously handsome looks. No one can dispute that the PPK is one lovely handgun.
The Sig P232 does not yet have the heritage and pedigree of the PPK, since it is a relatively new weapon. That said, it could rival the PPK in almost every aspect.
The only real difference is the size, which can be a plus or minus depending on your grip preferences. It is also a quality piece, precise on the range, and a good-looking pistol to boot.
The Sig P232 would be a welcome addition to any gun collection too. It also speaks volumes that such a newer gun is compared to the iconic Walther PPK.
That in itself is very flattering already.
See more articles in the category:
Hunting