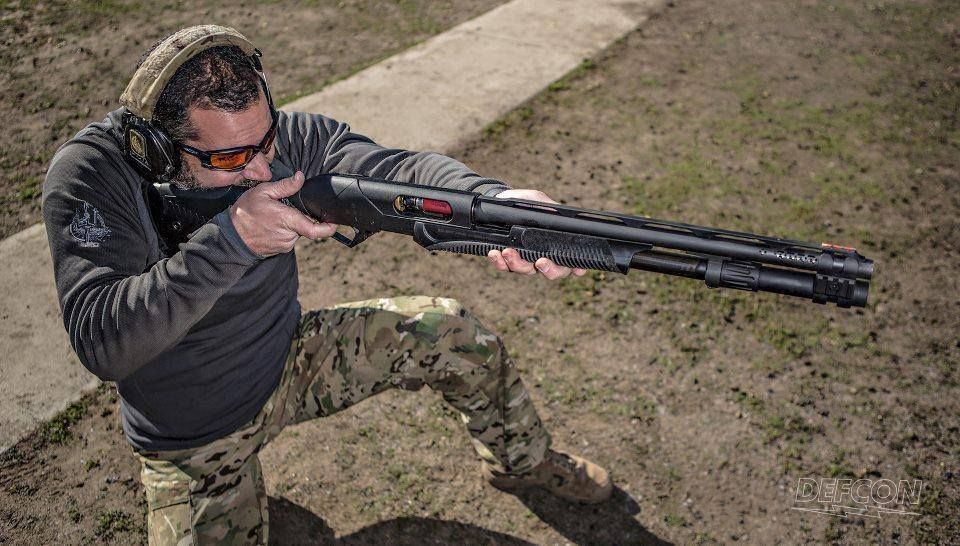 Guns are good business.
Manufacturers have tried to outdo each other ever since these weapons became commercially available.
People throughout history have been fascinated with guns, and this helps to fuel their development.
Improving technology and manufacturing methods have allowed guns to truly evolve.
Today they are indispensable tools for both sports, defense, and law enforcement.
Mention reputable companies and the name Benelli is never far behind.
These days they are much talked about thanks to two of their products, the Benelli Nova and the more recent variant, the Benelli Supernova.
The two weapons are pump-action shotguns.
Both models have made a name for themselves in self-defense and hunting circles.
These two shotguns have many things in common but also have fundamental differences.
Still, no doubt, these weapons are very powerful and exciting.
Let us examine them both, and see why they remain to be extremely popular many years after their introduction to the market.
The First Incarnation – The Benelli Nova
The Benelli Nova is renowned for hunting as well as tactical use. It is a pump-action shotgun, but what makes it unique is the groundbreaking one-piece ultra-light buttstock and receiver.
It features a sturdy, part steel polymer buttstock, and receiver. It is impervious to weather and is said to be scratch-proof and resist rough handling. The Nova is very popular and there are two models to choose from.
Benelli offers a model tailored for hunting and another one ideal for tactical scenarios. The Nova measures approximately 40 inches long and weighs only just under 8 pounds when it is empty.
The hunting variant comes with a barrel and sight to enable better hunting. The barrel comes in options of 24-inches to 28-inches, and finishes of matte and camouflage are available.
Hunters can also opt for 12-gauge or 20-gauge models.
The tactical model on the other hand comes with an 18.5-inch smoothbore barrel as well as rifle sights, making it superior to the hunting variant in self-defense scenarios.
A drawback is it is not very precise for further targets. A 12-gauge is the only option.
Other Specific Features of the Nova
The Benelli Nova comes with double-action bars that have locking rotary bolt heads. It likewise features a full choke tube and a sighting equipped with a silver bead at the vent rib's middle.
A fantastic fiber optic sight provides great aiming.
On the downside, the weapon's ghost ring sight is not optimally suited for wing shooting.
It also comes with a forearm that has a button to halt magazine feeds once depressed. The price point for the Nova is also good considering its many features.
The Benelli Supernova – The Evolution of the Nova
A derivative of the Nova, the Supernova is distinctive owing to its single-piece receiver and switchable stock with a shim kit.
As with its predecessor, it resists weather thanks to a polymer-reinforced metal frame. Its weight is approximately 8lbs and is around 40 to 49.5-inches in length.
The Supernova comes in 3 variants namely: the SteadyGrip, ComforTech, and Tactical models. The Supernova ComforTech is ideal for hunting due to the various sight and barrel configurations.
Just like the Nova, it is equipped with a smoothbore or rifled barrel. The ComforTech likewise features 5 kinds of chokes and has length measurements that range from 24-inches to 28-inches.
As for the SteadyGrip variant, its main feature is the weapon's steady character. It is available only as a 24-inch barrel.
The Tactical model is the self-defense variant of the Supernova and it comes standard with a ghost-ring sight. There is an 18-inch or 14-inch barrel available for the Tactical model.
Other Features of the Supernova
The Supernova has a generous trigger pull that allows use even when wearing gloves. The trigger feels rather effortless. There is also a part-rotary bolt head for easy unlocking.
Since the safety is reversible it is great for lefties. Hunters can also switch from 3 stocks. The Supernova is very well-balanced and shoots easily.
Famous for its zero muzzle jumps, the ridges on the stock provides excellent handling and are very tactile.
Women users also have a liking for this weapon thanks to its controlled recoil. It is a double-action bar and cleaning it is a breeze.
Still Other Notable Differences between the Benelli Nova and Supernova
The Nova and Supernova differ when it comes to the stock and trigger guards. This is the single most distinct dissimilarity between the two models.
It is also notable to point out that Supernova's stock is wider and features a big trigger guard. The spaciousness permits pulling the trigger effortlessly.
In contrast, the Nova has a single receiver and stock, making it not an adaptable comparison. The Supernova allows stock changes anytime.
The two shotguns however are both great to handle and share similar recoil characteristics.
Price points of the Benelli Nova and .SuperNova
The two Benelli shotguns are different in price, with the Supernova more expensive. The most inexpensive Nova is approximately $419, and a Supernova will set you back around $499.
On the high side, the priciest Nova is tagged at $669, and a Supernova on the high side is $929.
Benelli weapons have never been bargains but both these guns have accessible price points.
Modifying Options of the Nova and Supernova
One can tailor any of these two shotguns. The Supernova however lends itself more to modifications. The accessory lines for these two guns are not interchangeable.
In Conclusion
Outdoor aficionados can take advantage of the features of both the Benelli Nova and Supernova shotguns. This is because they are both reasonably priced.
If you are in the market for a quality shotgun, then any of these two models is a great buy. Both are great hunting guns.
The Supernova is super customizable, while the Nova is also a great weapon that comes with a myriad of target loads. One can easily select a gun that will suit specific needs and budgets
See more articles in the category:
Hunting